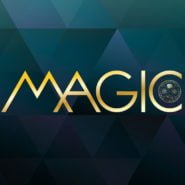 Magic: Onyx Edition
£45
Prepare to astound! This comprehensive collection of magic props and illustrated instructions allows you to learn, practice, and master 200 tricks and illusions to amaze your audience.
Solid metal rings miraculously link up and unlink again. A magical water glass delivers some amazing illusions: A handkerchief materialises out of the empty glass, water changes colour in the glass, liquid turns into fabric, and one playing card inexplicably changes into another.
Coins jump around and astound observers in fun money cup illusions. Dots appear and disappear in paddle tricks. Knots in ropes appear and disappear, a rope gets cut but stays intact, knots jump from rope to rope, a rope is pulled out of your mouth, and ropes pass through solid objects. Your fingers play Houdini and escape from a rope snare.
Little square sponges play big tricks on the audience by changing colour, quantity, and location. The amount of rice in a bowl multiples with a marvelous, age-old Chinese rice bowl illusion. A pencil passes through a playing card without leaving a hole!
Nails penetrate a metal coin. Coins pass through handkerchiefs and paper, disappear and reappear, double in value, and magically stay in place when they shouldn't!
A six-sided die baffles the mind and fools the eye. Amaze your audience by correctly guessing the number of a die each time it is rolled. Stretch your audience's minds to the limits with rubber band tricks. Conjure up a magic egg and use it for some baffling illusions. Make money from blank paper and karate-chop a banknote. Make a thimble appear, disappear, multiply, jump around, and pass through objects. Levitate yourself, hypnotise an arm, bend and restore metal, and paralyse a ghost. Perform tricks with food and household objects: Balloons are unpopped, toothpicks are unbroken, ice disappears, and sugar materialises in the palm of your hand.
Finally, become a master of playing cards tricks using a special deck of cards and instructions for dozens of different deceits, ruses, gags, and illusions.
A 112-page instruction manual with colour photographs illustrates how the tricks are performed. Video tutorials for the tricks are available online. For one magician, ages 8 and up, and many audience members. 
Additional information
| | |
| --- | --- |
| Weight | N/A |
| Dimensions | N/A |
| Brand | Magic |
| Country of Origin | Thailand |
| Age | 8+ |
Product Warnings

Under 3 Years Warning
Warning! Not suitable for children under 3 years. Choking hazard — small parts may be swallowed or inhaled. Keep the packaging and instructions as they contain important information.
Under 6 Warning
Warning! Only for use by children aged 6 years and older. Instructions for parents or other supervising adults are included and have to be observed. Keep the packaging and instructions as they contain important information.
Strangulation Warning
WARNING! Not suitable for children under 3 years. Strangulation hazard — long cord.Indoor use only.