We are extremely excited about the arrival of The Amazing Tightrope-Walking Gyrobot and the Simple Machines kit which have hit the Thames & Kosmos warehouse today.
The Amazing Tightrope-Walking Gyrobot is a robot fit for the circus! The Thames & Kosmos Junior team has waited for the arrival very patiently (well…sort of patiently…) and we can't wait to try this one out in the next few days.
Keep your eyes peeled on our Instagram pages to see how we got on and check out this YouTube clip which gives you a glimpse of what this ingenious robotic kit is about.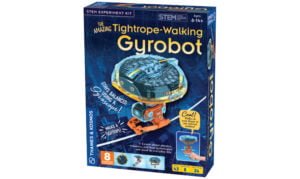 Build a robot that walks, step by step, along a tightrope. How? Thanks to the robot's main component, a gyroscope, it can maintain its balance and perform this fun trick without falling over! Through eight experiments, you can explore the astonishing powers of the motorised gyroscope and understand the physics behind its amazing behaviours. Experiment with getting the robot to walk on different surfaces: a tightrope, on a solid tabletop, on a soft surface, and even on your arm! You can also experiment with the balancing behaviour of the motorised gyroscope by itself, testing its ability to balance on its edge, on your finger, on a pole, and dangling from a string. RRP for the kit is £46.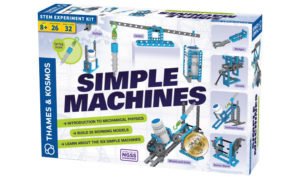 With our brand new Simple Machines kit, you will jumpstart your study of mechanical physics by learning all about simple machines and how they're used to make complex tasks easier to do. Through 26 model-building exercises, you'll investigate all six classic simple machines — wheels and axles, levers, pulleys, inclined planes, screws, and wedges — as well as gears. Start off with simple models to guarantee a firm understanding of the basic principles at play, and then move onto larger, more complex models to push the machines harder and see how they can work together. Have a look at this clip to see what cool models you can build! RRP for this fab kit for kids aged 8+ is £27.50.
If you want to find out what other exciting new kits have arrived in the warehouse and what is coming up in the next few months give Julia a call on 01580/713000.