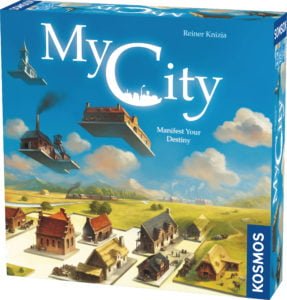 We are extremely excited to announce that the hotly anticipated legacy game, My City has finally landed at UK shores. This unique, family-oriented game has been developed by world-renowned game designer Reiner Knizia and was in the running for the Spiel des Jahres award which took place earlier this week.
"We have been inundated with pre-orders for this visually stunning 2-4 player game for ages 10+ by our trade and board game customers", Jo Drage, Sales Director tells us. The attraction of this game are its simple rules and short playing times. You get to shape your city from settlement to industrialisation and can play over a number of days.
"With the start of the summer holidays, this great new addition to our board game range is perfect for families who are planning a staycation and, looking further ahead, will be a sure fire hit in the run up to Christmas", Jo Drage concludes.
My City retails at £34. Please contact us here if you want to find out more.