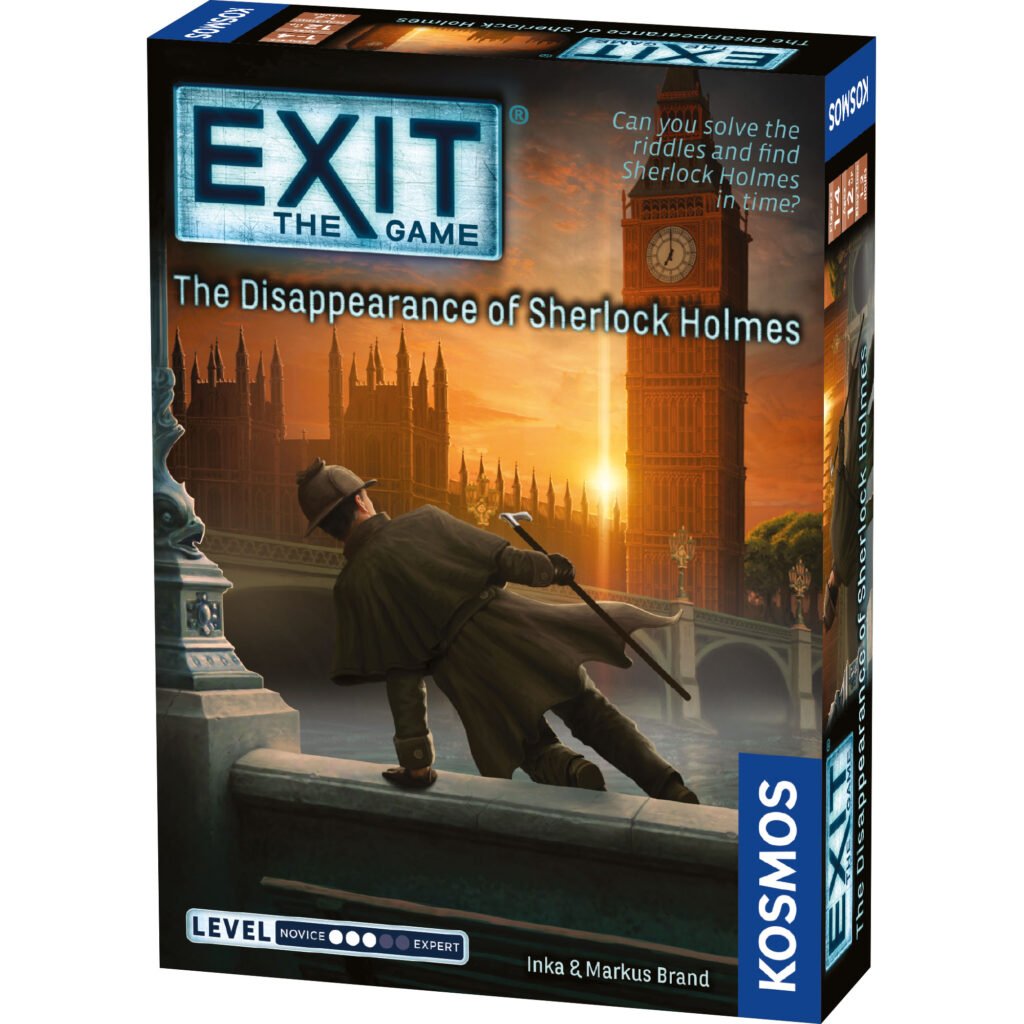 At Thames & Kosmos, our EXiT: the game series is designed for players aged 12 and up, each boardgame offers a unique and challenging experience that encourages critical thinking and teamwork.
What is the EXiT the game series?
Our EXiT the game series is a collection of games that simulate the excitement of an escape room. Each game in the series features a different theme and storyline, so every version provides a unique experience.
Players are presented with a scenario and must use their problem-solving skills to complete each puzzle and escape the room within a certain timeframe. Each title is labelled with a difficulty level from novice to expert, so there is a perfect Exit game for every player, no matter their skill level.
Each EXiT: the game includes a variety of materials unique to that game, this may include, cards, puzzle pieces, a decoder disk and other strange items. Players must collaborate solving a variety of puzzles in order to progress through the game. The majority of titles have a gameplay time of about 1-2 hours, making them ideal for an afternoon or evening of fun with friends and family.
The Benefits of EXiT Board Games for Teens
Our EXiT board game series provides a fun environment that teenagers can engage with, whilst also being an excellent way to introduce your teen to the world of cognitive reasoning and problem-solving.
These games require players to think critically and work together to solve intricate puzzles. Teenage players can learn exactly what it is to have to think outside of the box – or even within it! The EXiT series of games promote excellent teamwork and communication skills, attributes which will be key for every teenager as they transition into adulthood. The games are designed to be challenging, but they also provide a satisfying sense of accomplishment when the 'lightbulb moment' happens and the puzzles are finally solved.
They are perfect for game nights, birthday parties, or any other occasion where teens can come together and have fun.
EXiT Board Games Available from Thames & Kosmos
We offer a wide range of EXiT board games, each with its own unique storyline and level of difficulty. Some popular options include:
EXiT: The Abandoned Cabin: In this game, players find themselves stranded in an abandoned cabin and must solve puzzles to escape before a storm hits.
EXiT: The Sunken Treasure: Players must explore a sunken ship and solve puzzles to uncover the hidden treasure before time runs out.
EXiT: The Cemetery of the Knight: The players navigate their way around a creepy cemetery and solve puzzles to uncover the secrets of the knight buried there.
Conclusion
Our EXiT board game series provides a fun and engaging way to spend time with friends and family while promoting critical thinking, teamwork, and communication skills. With a variety of games available on Amazon, there is something for every skill level and interest.