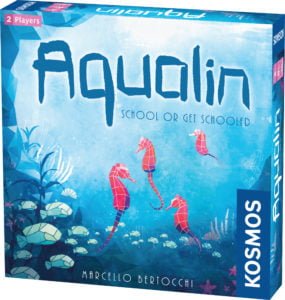 Aqualin, is a visually delightful addition to the company's two-player strategy range. It is easy to learn but challenging to master. During the game, each player attempts to group together as many matching tiles as possible and form the most groups. One player works to create groups of the same colour, whilst the other makes groups of the same type of sea creature. The bigger the group, the more points it's worth. This fabulous gem of a game comes in at an RRP of £18.50.
Crazy Fishing is the latest in the company's DEVIR board game range and a fantastic addition to any family's game shelf which is suitable for players aged 6+. Two to six players become fishermen who compete to catch the biggest fish in the sea. You play over a number of rounds and the winner is the player who has the highest score obtained catching fishing and with bonus cards. RRP is £22.
"We are also eagerly awaiting the arrival of My City", Jo Drage, Sales Director announces. This hotly anticipated Spiel des Jahres nominated game is due to arrive at the company's warehouse in a few weeks' time. "We are certain from the interest generated via our social media channels that this game will be a bestseller over the summer and a must-have addition in the trade's board game selection", Jo Drage concludes.
Please contact sales@thamesandkosmos.co.uk if you want to find out more.