Thames & Kosmos are excited to announce the arrival of the hotly anticipated Solar Powered Rovers.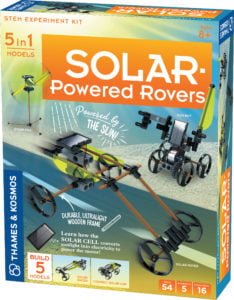 This kit which is suitable for children aged 8+ has been eagerly anticipated by the company's trade customers but sadly, due to COVID-19, the production of this kit was delayed by a few months.
We have seen a surge in the demand for good quality science kits which teach children about alternative energy in a fun and engaging way and the Solar Powered Rovers kit is the perfect present for any budding physicist and perfect to play and experiment with in the upcoming summer holidays. Kids will love the fun factor while parents will be assured by the quality and educational value of this nifty, mid-price range kit.
Children (and parents alike!) can construct five motorized models. Build three types of solar cars, a solar fan, and a solar robot model. Conduct science experiments with each model to learn about gear ratios, solar cells, and more. The ultralight materials, including strong bamboo rods, make your models speedy and durable. RRP is £15.